Nebraska Safe Sleep Champion
Nebraska Safe Sleep Champion
Loup Basin Public Health Department is the first Health Department in Nebraska to become a Nebraska Safe Sleep Clinic Champion and the 5th clinic in the state. The safe sleep campaign was established to provide consistency, evidence-based messaging on safe sleep, abusive head trauma/shaken baby syndrome, and the crying plan to Nebraska families. These consistent messages would benefit many families with babies under one year that our physicians regularly see.
"The stresses of parenthood can be intense, but with proper education, DHHS and partners are helping parents understand the right way to deal with a crying infant. This program provides us with another route to share messages. We want caregivers to hear the same message wherever the care of their child happens to take them." said program director Jackie Moline, Maternal Infant Program Manager for the Nebraska Department of Health and Human Services (DHHS).
An increase in awareness of safe sleep will result in:

More babies sleeping safely

Fewer SUID deaths

A lower rate of infant mortality in Nebraska

More babies celebrating their first birthday!

---

Safe Sleep ABC's

Alone

On their Back

In a Crib

---

To view the step-by-step process for becoming a clinic champion click below.

​For any questions, individuals can reach out to LBPHD's own, Kalie Cassidy at kcassidy@lbphd.org or can reach out to Jackie Moline, Jackie.moline@nebraska.gov.

---

​
The following are local champion birthing hospitals in Nebraska:
Mary Lanning Health Care, CHI Good Samaritan, CHI St. Francis, Faith Regional Health Services, Boone County Health Center, Kearney Regional Medical Center, Antelope Memorial Hospital, Howard County Medical Center, and Grand Island Regional Medical Center.
Those in the process of becoming a NE Safe Sleep Hospital Champion:
Avera St. Anthony's Hospital, Lexington Regional Center, and Great Plains Health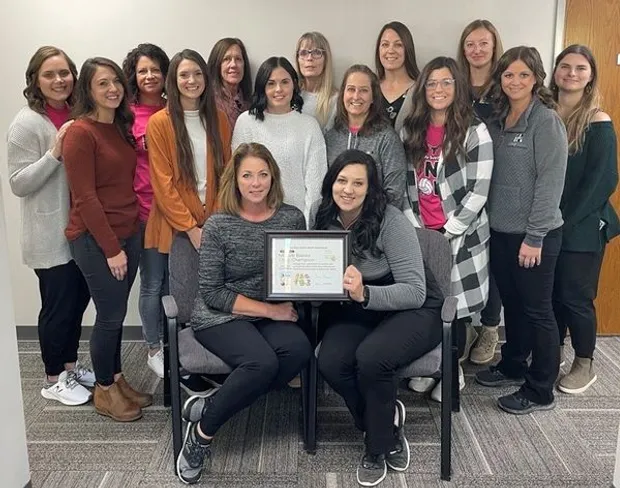 LBPHD staff was awarded the Safe Sleep Champion Certificate from NE DHHS, Jackie Moline on October 18th. All staff members completed the "Reducing the Risk for Sudden Infant Death Syndrome" (SIDS), "Sudden Unexpected Infant Death" (SUID), "1-2-3 Don't Shake Me and A Crying Plan" training to meet the requirements for certification.